How to Choose the Right Lashing Straps for Your Cargo Transportation Needs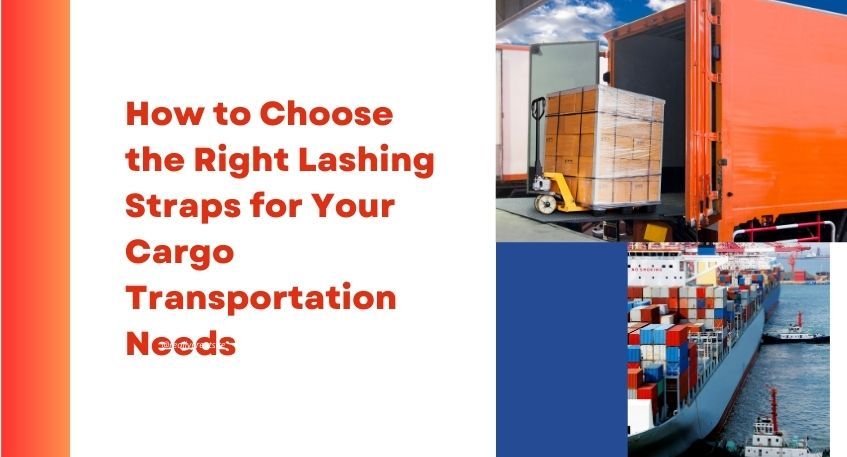 No matter what kind of business, whether wholesale, retail, or import-export, cargo transportation is an essential activity that needs to be made secure and risk-free to minimize any losses. Extra care needs to be taken in case of transportation of expensive and delicate items. Securing the cargo through lashing straps is one of the ways that can prevent the products from being damaged during their moving from one place to another.
What is a Lashing Strap?
A lashing strap, also known as a tie-down or logistic strap, is a webbed piece of strap of a specific length that is used to tie down and secure items during the shipping or transportation process. Lashing straps are available in particular lengths to handle different-sized loads. The smallest length can be around 6 feet for a small-sized load, while the longest straps can be up to forty feet for tying down the loads. Tie-down straps have two strength specifications,
Break Strength describes the maximum weight that can be secured before the webbed strapped breaks.
Working Load Limits: This is the maximum weight that a lashing strap can accommodate on a day-to-day basis without excessive wear and tear and damage. The working load is normally one-third of the break strength.
Kinds of Lashing Straps
Lashing straps are used to hold down and secure a diverse range of products for transportation. Whether you are transporting military or electrical hardware or construction items, tie-down straps are necessary for safe and accident-free transportation. Let us look at various types of tie-down straps that will ensure a safer journey for your cargo.
Tie-Down Straps
Tie-Down straps in the lightweight category are designed for securing lighter loads. These straps usually have a working load capacity of 100 lbs (50kg) and a maximum breaking strength of 220 lbs (100kg). It's important to note that the buckle is designed to slip before the webbing breaks, ensuring added safety. These straps utilize spring-loaded metal buckles that effectively wedge the webbing, preventing any slippage during transportation.
Ratchet Straps
These straps consist of a webbing material such as polyester or nylon, which is attached or woven into a ratchet buckle. This type of strap can be tightened or loosened accordingly with the help of the buckle. The strap is wrapped tightly around the load first and then tightened further with the help of the ratchet buckle. This fixes the load in one place and prevents it from shifting during the journey.
Ratchet straps are popularly used to fasten large and heavy loads like furniture or electrical appliances. Ratchet buckles have the most secure grip among all logistic strap types and have a break limit of 15000 lb and a working load limit of 5000lb.
Cam Buckle Straps
They resemble a ratchet straps as they are made from the same synthetic polyester or nylon fibers. But unlike ratchet straps, they are not attached to a cam buckle. Cam buckles have a lever that is released to slide the strap through the fastener bottom and make the strap suitably wrapped tightly around the load. The length of the strap is altered by pushing the lever to pull the strap. These straps are available in ranges of 1-inch to 4-inch widths. They are less secure than ratchet straps and are easier to tighten or loosen than ratchet straps. Cam buckle straps possess a
breaking strength of 1500lb and a 500lb working load limit.
Cam buckle straps can handle medium-sized cargo, unlike ratchets, which are not capable of fastening gigantic loads like logs or heavy furniture. They are suited to handle more delicate loads that can get damaged from vibration during transit.
Things to Consider While Selecting The Right Lashing Strap for Your Cargo
Working Load Limits and Break Strength
These usually denote the strength of the lashing straps. Webbing straps are manufactured according to the load specifications, and usually, the manufacturer mentions the load limit on the webbed strap. To safely tighten and fix the cargo, the relevant type of straps is crucial; otherwise, the strap can break during transportation. The working load limit needs to be higher than the cargo weight. The break strength is calculated according to the weakest location of the strap, which is usually the ends. If end fittings have a break strength of 1500lb and overall break strength is 2000lb, then the break strength of the whole strap would be 1500lb.
Length of the Strap
Utilizing the right length of the strap is crucial to fastening a load securely. A short length of strap to secure a large load would increase the tension in the strap, which would result in the strap being damaged or broken. If a very long strap is used, the ends would hang everywhere and get stuck in things during moving the cargo while unloading.
Securing Mechanism
There is a wide variety of mechanisms to choose from depending on the nature and size of the load. The simplest of the tightening buckles are lashing and cam buckles. These are more appropriate for light and medium-weight goods such as motorcycles. They use angled teeth to lock a strap into place.
Ratchet Mechanisms are the most complex and foolproof mechanisms designed to handle heavy loads. They can securely use a spool to tighten around the load size and then securely lock into a place with the help of a lever.
Material of Straps
Synthetic Materials used to manufacture straps are mainly of two types. The high-strength synthetic fiber designed to secure heavy loads is nylon. Whereas polyester is a material with lesser strength and is not as durable as nylon.